About the Artist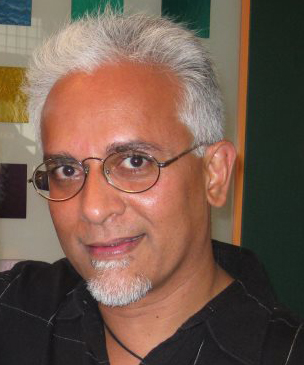 Doug was born and raised in Mumbai, India, and moved to the US to further his education in Engineering Mechanics. After nearly a decade in his field, an accident forced him to change the course of his life and at the same time turned on a creative light that has shone bright ever since.
"I strive to create jewelry that is eye catching and distinctive with a rustic and organic flair. I am naturally drawn to metal, and enjoy working in silver, gold, copper, brass and bronze as well as alternative metals like aerospace aluminum alloys, stainless steel and titanium. Vitreous enamel has introduced me to a whole new world of color, and endless experimentation. My designs are enameled on copper or fine silver and used as focal pieces and accents in my work. They range from elegant to dramatic, and showcase a variety of colors, patterns and textures.
My designs reflect diverse sources of inspiration that include nature, architecture, culture, spirituality, and the natural beauty of the rustic and organic."
This year 2021, I wanted to work with a larger canvas so I started making wall sculptures. I like to call them Wall Jewelry. I use many jewelry making techniques in the process and draw on inspiration from my past work".